Do you regularly use Remote Desktop to connect to and manage computers?
Do you find that you're constantly switching between remote desktop connections because you need to have too many open to do your job?
Do you find it difficult to manage your remote desktop connection settings?
If so, then you need MuRD, the Multiple Remote Desktops manager.
MuRD requires that Microsoft's Remote Desktop Connection software is installed on your computer. The ActiveX control (mstscax.dll) that comes with it also needs to registered on your computer, this may not be done by default. If you download MuRD and try to open a connection and nothing happens then please refer to the FAQ section for information on how to get it working.
MuRD (Multiple Remote Desktops) is a Tab based manager for Remote Desktop connections. It incorporates an Explorer style interface and embedded, tabbed remote desktop connections for use with Microsoft Remote Desktop enabled hosts like Windows Server 2003, Windows XP Professional (and MCE) and Windows 2000 Terminal Services.
MuRD Allows you to:
manage and arrange your remote desktop connection settings using folders and shortcuts in a way that works for YOU.
combine connections into "groups" to enable you to open multiple connections at the same time
run the main application window in full screen mode so that you maxmize display space but still have tabs visible for switching between connections
run full screen remote desktop connections on ANY monitor and seemlessly move connections between monitors or back to the connection manager
locate your current remote desktop connections via tabs (main application window) and drop down menus (for full screen windows)
use shared credentials to centrally maintain user/password/domain settings
use "Fit to Window" to run remote desktop at whatever resolution you want, and/or define custom resolutions for use with connections
Tabbed Remote Desktop Connections
MuRD hosts Microsoft's Remote Desktop ActiveX Control, so your experience inside the connection is the same as that of Microsoft's Remote Desktop (or the Remote Desktops MMC Snap-in), but it exposes some extra features provided by the control that are not exposed by the standard Remote Desktop Application (eg Screen Resolution can be any size, "SmartSize" scaling of the remote desktop if it is run at a resolution higher than the size of the MuRD window).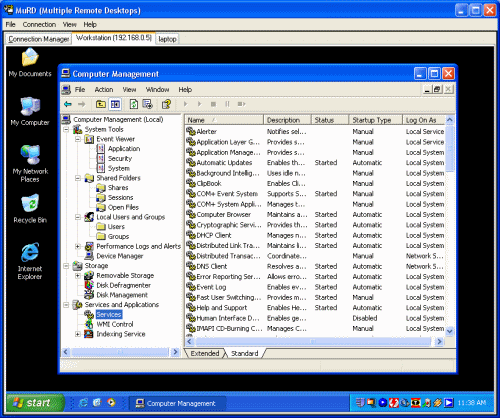 Connection Manager
MuRD also provides a management interface where your connection settings can be maintained in a logical grouping (completely up to you) using folders, connections, groups (open a number of logically associated remote connections at the same time, or just your "standard operating set" of remote connections) and shortcuts to connections or groups. You can also share a set of connection settings with others via a network share (for example), these settings are read only in the interface but available for everyone in your workgroup to use if required.